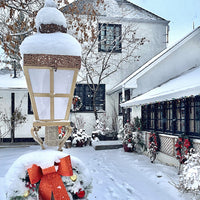 Festive Foothills Art Sale
Our Festive Foothills Art Sale features original artworks by over 100 Alberta artists!
Proceeds from the sale support the local artists who created the works and Leighton Art Centre's school programs, youth initiatives, and environmental stewardship opportunities.
In-person sale begins November 10th! Beautiful decorations, gorgeous art, an incredible selection of fine craft, art cards, books and other gifts, plus the home's historic ambiance combine to make visiting in person a memorable part of your family's season. Free parking and admission by donation. Spectacular Rocky Mountain views included! Visit leightoncentre.org for more info.
Online and in-person sales continue through December 21, 2023.
Browse the Sale Now!
Michelle Atkinson: Human Sprawl
Human Sprawl explores humanity's tendency to live in excess with personal consumption impacting biodiversity. Born from waste, the animal sculptures were created from thick kiln-cast slabs of broken window glass destined for the landfill and the plant sculptures are made with donated bottle glass.
The animals in this site-specific installation represent what we've lost and are all classified as threatened or endangered by the Government to both drive home our impact but also act as an educational opportunity.
This site-specific installation occupies our indoor botanical garden through March 2024.
View the installation components now!
Featured Art & Fine Craft
Browse & Buy Original Alberta Art From the Comfort of Home!
If you're in the Calgary or SW Alberta Foothills area, please consider swinging by to visit in person, Tuesday - Sunday 10 am - 4 pm.
We hope you enjoy browsing a wide range of art created by talented Alberta artists, here in our online Gallery Shop.
We offer free Gallery pick up and Canadian shipping by post/courier (shipping fees apply). This site offers shipping options within Canada. To inquire about shipping to another country, please contact us at 403-931-3633.
Shop by Exhibition/Sale or Featured Collection... or click Shop to see all pieces that are currently available online. You can find Pickup & Shipping information here. 

Thank you for supporting Canadian artists and Leighton Art Centre!
An Important Note About Securing Your Purchase
Shopify, the platform this site is built on, does not automatically place a hold on an item that you have placed into your cart. It's not taken out of our inventory (or unavailable for others to place in to their carts) until your payment is processed.
Because many of these pieces are one of a kind, we highly recommend purchasing any 'must haves' ASAP and then returning to browse for more.
While you're here... enjoy a few glimpses of Leighton Art Centre!
While you're here... enjoy a few glimpses of Leighton Art Centre!
Thank you for supporting the Leighton Art Centre and our member artists!
Leighton Art Centre is a registered charity. Donations are always greatly appreciated and can be made through CanadaHelps.
Tax receipts will be issued for all donations according to CRA regulations.